10 Key Steps to Ensure a Successful Basement Finishing Project
Mar 24
If you're seeking a successful basement finishing job, look no further. With the proper basement finishing services, you can transform your basement into a useful and appealing living space. Begin by deciding the layout of our basement, and be sure to take any necessary initial steps. Then, divide the project into ten critical actions that must be completed in order to get the intended output. If you have all the necessary knowledge and equipment, it's truly that simple. Don't be scared to go outside the box and find creative methods to personalize your basement living space!
1. Recognize Your Scope
Before undertaking a basement restoration, it is vital to study and comprehend the wall plan. Note the location and size of any windows, doors, columns, or other structural components that may have an impact on the finished basement design as you determine the basement's space. This information is crucial for budgeting and predicting the amount of supplies required for the project. Once a precise blueprint for the basement space has been produced, you can safely begin arranging the layout.
2. Establish a Budget
Before beginning any basement renovation project, a budget must be established. Consider the sump pump, basement floor, and ceiling, as well as any other materials that may be necessary, when calculating the size of your basement. It is essential to include labor charges as well as the cost of the furniture and other pieces you intend to add. Understanding how much money you are willing to spend will prevent you from exceeding your budget and experiencing unexpected expenses along the process.
3. Create a Strategy
Now that you've determined the basement's size and budget, it's time to create a transformation plan. Consider how you intend to utilize the basement and which plan best suits your needs. Are you interested in installing a bedroom or a bathroom? What kind of flooring, tiling, and lighting should you select? It is crucial to establish a comprehensive list of all project materials, including basement walls and floor joists. With an ordered list of items in hand, you will be able to begin basement remodeling planning.
4. Install Appropriate Insulation
Did you know that properly insulating your basement is one of the most effective ways to maintain temperature and humidity stability throughout the year? This ensures that your area is not only comfortable, but that you will also experience large energy cost savings in the future. Polystyrene foam insulation is an excellent alternative for installation in interior or exterior walls that is both rapid and durable. When it comes to insulating basement walls, however, meticulous design and smart placement are essential; inner insulation helps maintain comfort, while outside insulation functions as an additional barrier against extreme weather conditions. With the correct amount and type of insulation, you can ensure a warm and dry indoor environment while realizing significant financial savings.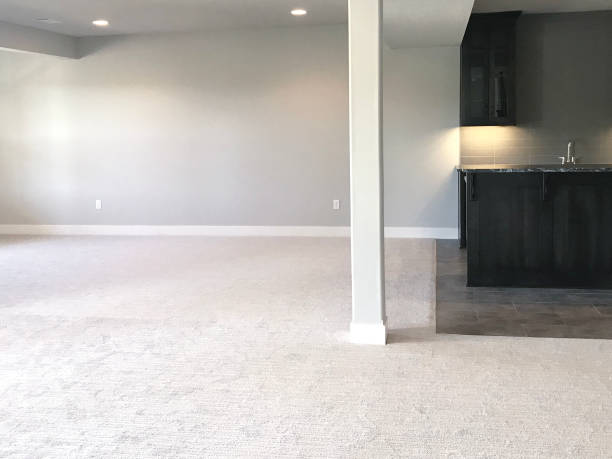 5. Choose the Correct Flooring
While choosing basement interior walls and a drop ceiling, do not overlook one of the most essential interior design aspects - flooring! Consider installing tile, hardwood, or laminate flooring to give your basement a modern, polished look. Carpeting is a popular option, but it can trap moisture and make cleaning challenging. These solutions are low-maintenance, durable, and may accentuate your space's finest qualities. Choose a hue that complements your aesthetic and take pleasure in having flooring that is both aesthetically pleasing and functional for years to come.
6. Install the Electrical Sockets
It is time to install the electrical outlets after deciding on the sort of basement wall and concrete floor for your home. The installation of electrical outlets is a crucial but complicated work that should only be performed by a trained professional conversant with local and national construction laws and regulations. A qualified team will be able to ensure that the job is completed securely and correctly, as well as reduce the likelihood of costly errors or unpleasant surprises occurring during or after installation. In addition, having specialists install your electrical outlets ensures that they will last as long as possible for optimum usability and comfort. First-time accuracy helps you save money in the long run.
7. Mount the Lights
After the electrical outlets have been installed with drywall screws, you can proceed with the lighting installation. Selecting a suitable sort of lighting for your basement is crucial. Contemplate natural lighting as well; installing windows or skylights can create a cheerful and inviting atmosphere in your basement. While this may take more time than installing recessed lighting, natural light has been shown to lower stress and improve overall happiness.
8. Design and Installation of Storage Systems
Basements can be an excellent storage solution, but planning is required. Consider top and bottom plates for floor-to-ceiling shelves, or choose cabinets with enclosed doors for goods that need not be exposed. Try hanging shelves from the ceiling of the basement, as this is an often-overlooked space-saving solution. With careful design and clever storage options, you can maximize the storage space in your basement.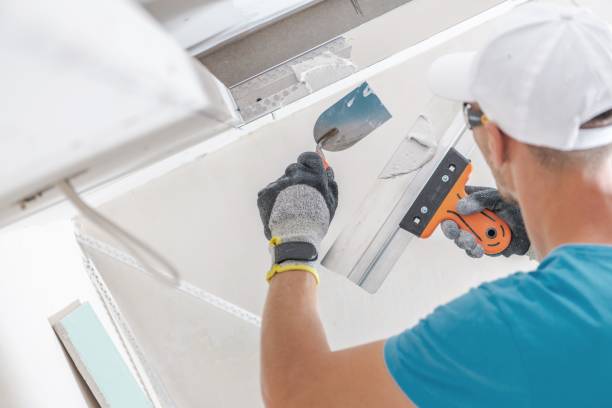 9. Choose a Wall Finish
The appropriate wall finish can make all the difference when you're ready to alter your basement. Interior painting services may help you achieve the desired aesthetic, whether it's a bright and cheery design with paint or a more refined impact with wallpaper. If you prefer something more subdued, consider paneling or stucco; their muted tones can help create a peaceful environment. With a considerate selection and professional craftsmanship, you can quickly bring your basement to life.
10. Accessorize and Put the Final Touches On
Now that you have taken care of all the necessary elements, such as tiling the ceiling and installing floor joists, etc., your area is prepared for its final metamorphosis. Accessories have a significant effect on any environment, and you can utilize them to create the desired ambiance. Try adding area rugs, artwork, and curtains to the room in order to warm it up. Plants, bookcases, and pillows may also offer coziness and a sense of home to any living room. Get inventive with lighting fixtures to add an extra distinctive touch to the area and complete your desired design.
Basement finishing is a fun and gratifying endeavor. With careful planning, budgeting, and attention to detail, you can create a comfortable and effective living area. By adhering to these 10 critical measures, you can ensure the success of your basement finishing project. Good luck!
If you're interested to have more knowledge about this topic, feel free read this blog post from Patch and Paint Pros.